2017 Musical Guests
2017 Celebrity Guests
Each evening, the 19th Hole features "World Am LIVE"! With a different band each night, a dance floor to let loose, seating for 700 and the biggest bar in the place, you're sure to have a great time. Check out what artists are slated to appear in 2017!
East Coast Party Band
Everyone loves kicking off the week at World Am with this high-energy band. They are guaranteed to get you moving and help you forget about the day on the course!
The East Coast Party Band is a versatile and exciting musical entity from Charleston South Carolina. The group has 6 dynamic lead vocalists, a well-versed horn section and a fantastic rhythm section that has played together for 20+ years.
Musical styles include Carolina Beach Music, Soul Music, Fifties music, a sensual array of ballads and classic Rock. They play parties, wedding receptions, town festivals and conventions. Their specialty is involving the crowd in the show with their special brand of entertainment.
"Let's put ten pounds of party in a five pound bag"!
The East Coast Party Band will be on stage in the World Am Live Ballroom on Monday, August 28th.
---
PlaneJane
PlaneJane, one of the Carolina's best party and wedding bands, is a six-piece ensemble that plays exciting hits from the sixties to the present. Based in Charleston, SC, the talented group has performed over 5,000 shows in eight states since its inception in 1997.
This band is built to keep the crowd on its feet. Their tunes are punctuated with swinging horn section solos, hip-hop, funk, shag songs, and rock and roll favorites. PlaneJane has five vocalists, each with a distinctive style. All five vocalists harmonize to form a trademark sound over the three multi-instrumentalists that rev up the audience.
PlaneJane will be on stage in the World Am Live Ballroom on Tuesday, August 29th.
---
World Amateur Karaoke Night!
World Am Karaoke made its stage debut in 2016 and the response was incredible. Based on the resounding positive feedback, the World AM will be having a Karaoke Night for the second straight year. We'll have a professional DJ running the show, but it's up to you to bring the house down. Get there early and put in your request for your favorite song. Hang tight and watch your fellow competitors to see who among you has the best vocals.
Dennis Traini, known in the business as Traini D, has over 12 years' experience as a DJ and karaoke host at family resorts, weddings and private functions in the Myrtle Beach area. He always strives to ensure that everyone has a great time. Traini D is one of the most requested karaoke DJ in the area.
World Amateur Karaoke Night will be on stage in the World Am Live Ballroom on Wednesday, August 30th.
---
SOUL FISH
This four-piece rock band not only keeps you dancing and singing all night long. but consistently strives to create that perfect moment that you want for your special day. "Soul Fish" is a well-seasoned wedding and event party band who is well known for their "all-request" shows, extensive song list, and wide range of song genres that has earned them the reputation of rarely being "stumped." The band's professional work ethic has also made them very well known for never taking breaks, and keeping their audiences captivated. Soul Fish is the perfect addition to your event, and are now available for wedding receptions, wedding ceremonies, corporate events, birthday parties, reunions, anniversaries, oyster roasts, bar mitzvah, bat mitzvahs, festivals or any occasion.
Soul Fish, based out of Charleston, South Carolina, has been together now for twelve years with its original lineup, and has performed many special events.
Soul Fish will be on stage in the World Am Live Ballroom on Thursday, August 31st.
Each evening, the 19th Hole features celebrity guests spanning PGA TOUR players, television personalities and top 100 teaching professionals. Check out the personalities that will be roaming the 19th Hole this year!
Charlie Rymer
One of Golf Channel's most prominent personalities, Rymer will attend the World's Largest 19th Hole Monday and Tuesday night. Rymer will join fellow television personality Chantel McCabe and national golf radio hosts Brian Katrek and John Maginnes. Charlie's star in the golf media business has continued to ascend in recent years. Through his rise, Rymer has a remained a friend of the Myrtle Beach World Amateur Handicap Championship.
A former host of the Golf Channel shows Big Break and Road Trip: Myrtle Beach, Rymer, who joined Golf Channel in 2008, now serves as a co-host of Morning Drive, the network's daily news and lifestyle program.
Rymer also contributes to the network's coverage of the Drive, Chip and Putt Championships and Golf Central's coverage of the NCAA Golf Championships. He has grown to develop a likeable reputation for his quick wit and "down home" humor on air.
Rymer will emcee the 19th Hole activities on Monday and Tuesday, regale tournament participants with stories from behind the scenes on the PGA Tour, and take questions from the crowd.
---
Damon Hack
Damon Hack became a Golf Channel host in 2012 and has predominantly served as a co-host for Morning Drive. He also is a contributing writer for GolfChannel.com. Damon has become a favorite on the network with his robust personality and extensive golf knowledge.
Hack previously worked for Sports Illustrated and The New York Times, where he covered golf and the NFL.
Damon will be the emcee of the 19th Hole on Wednesday and Thursday nights. He will conduct interviews on stage, cover live contests and tell his own stories of a life covering the game we all love.
---
Paige Spiranac
Paige Spiranac is a rising golf talent, media personality, and online influencer who's on a mission to show the world how much fun golf can be. She's passionate about growing the game, especially amongst young women, and fighting against bullying, both online and off. She is always excited about finding innovative ways to reach new audiences and to spread positive messages.
Paige has been traveling the world playing competitive golf as well as collaborating with companies such as Callaway, Descente, Topgolf, Golf Digest, and TheCHIVE on creative media projects and appearances. She will be in attendance at the 19th Hole Tuesday and Wednesday nights interacting with participants, sharing her story and producing live media coverage.
---
Chantel McCabe
Chantel began working as a live reporter for the Golf Channel in 2016. She has covered the PGA Tour, LPGA Tour, NCAA golf and more. Chantel covered the Patriots 2016 season and the 2016 presidential election in the first-in-the-nation state. She also served as the 5pm news anchor weekdays at NH1 News. You may have seen her on NESN or Fox Sports regional channels on 'Golf Destination.'
Chantel spent some time in Myrtle Beach this past February, co-hosting Morning Drive with Charlie Rymer, live from the Dustin Johnson World Junior Golf Championship. Her professional presence and interview skills will work masterfully amidst the crowds of the 19th Hole. Chantel will be on the main stage, roaming the floor conducting player interviews and more on Wednesday and Thursday nights at the 19th Hole.
---
Katrek and Maginnes On Tap
Katrek & Maginnes On Tap, which airs nationally on PGA Tour Radio on Sirius/XM, will be originating from the World Largest 19th Hole again this year. The show will be broadcasting from the main stage at the Myrtle Beach Convention Center each night. World Am players will be able to interact with the hosts and enjoy the fast-paced program, which discusses the hottest topics in golf.
The most listened to golf show in the world, Katrek & Maginnes On Tap is a guest and listener driven program whose hosts perfectly complement each other.
John Maginnes is a former PGA Tour pro who brings keen insight into the game played at its highest level and an irreverent sense of humor. During his playing career Maginnes won several events on what is now the Web.com Tour. He also contended on the PGA Tour, once participating in a five-man playoff at the Buick Open. A 2004 elbow injury effectively ended his professional career, but his quick wit (it certainly wasn't his stunning good looks!) caught the eye of media executives. After a two-week trial run with USA Network, he launched a media career that's now in its 12th year.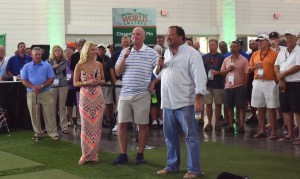 Brian Katrek is the ultimate professional and one of golf's most trusted voices. An Emmy award-winning broadcaster, he has hosted television, interactive, and radio play by play coverage of golf tournaments since 1999, including all four majors and the Ryder Cup. Katrek brings more than a polished voice and an unmatched passion for the game. He is also an accomplished player in his own right. He has won numerous amateur events and will again compete in the scratch division at this year's World Am. Katrek has also caddied on the PGA, Champions and LPGA tours, so he has a deep understanding of the game from many perspectives.
The duo paired up in January of 2014 on Sirius/XM and has developed into the most popular in the game.
---
Ewa Mataya Laurance
"The Striking Viking"
Ewa Mataya Laurance is one of the most visible superstars in the history of pocket billiards. Known as The Striking Viking, she will be doing trick shot shows and accepting 9-ball challenges from participants all four nights at the 19th Hole. She will be set up at the Featured Table in the main hall of the 19th Hole. Go by and watch Ewa perform and see if you can beat the Striking Viking in a match!
Ewa is one of the most visible superstars in the history of pocket billiards. Known as The Striking Viking, she took the billiard world by storm after moving to the US from Sweden.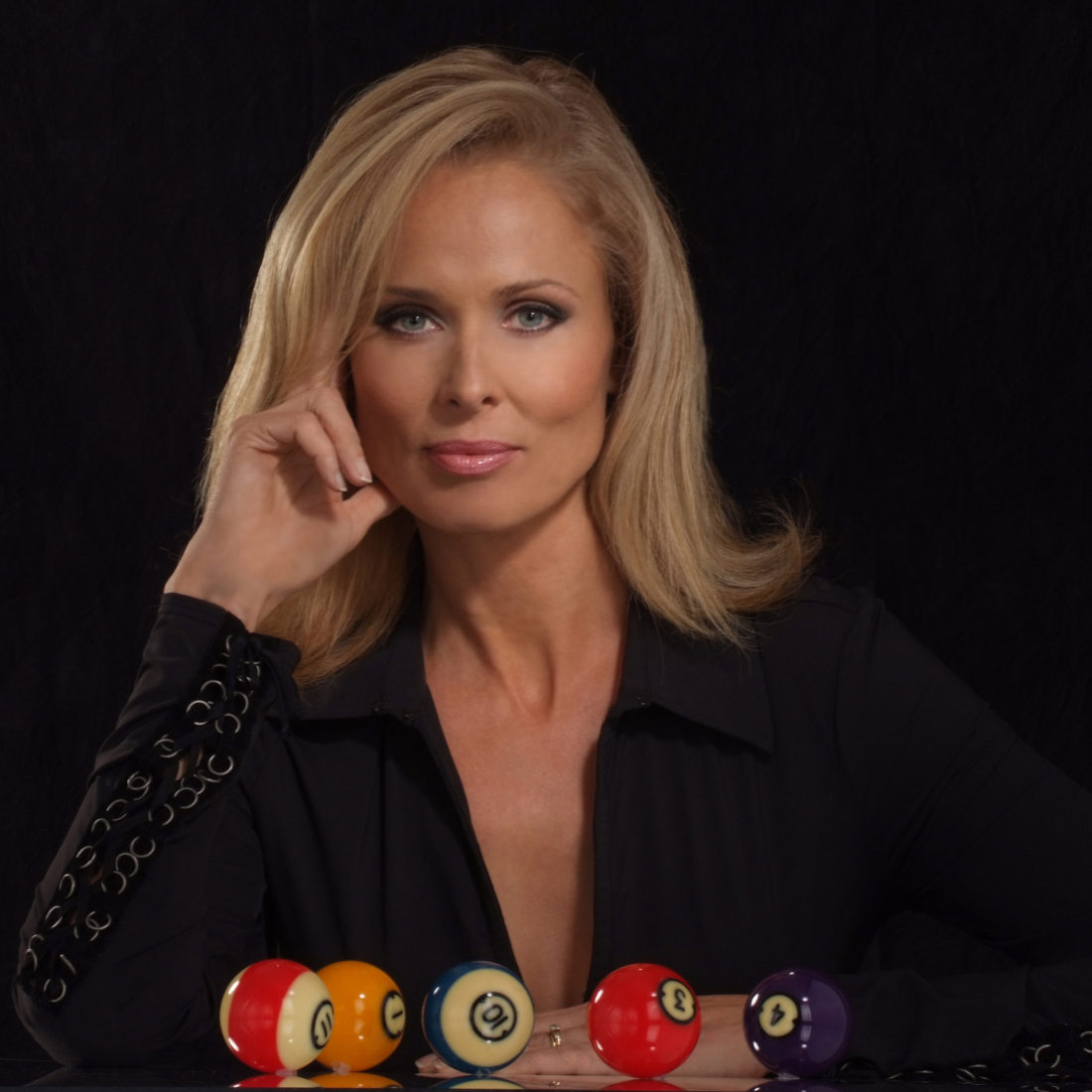 Following her childhood dream of becoming the best in the world, she continues to be a dominant presence on the international billiard scene.  Ewa is the current International and World Cup Trick Shot Champion and the holder of multiple World and US Open 9-ball titles. She has also won the Swedish, European and US National Championships in her incredible career. A former #1 ranked player in the world, Ewa has received Player of the Year honors and been named WPBA Sportsperson of the Year. In 2004, she was inducted into the prestigious Billiard Congress of America Hall of Fame.