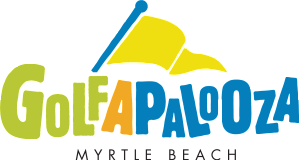 In 2016 the World Am will be hosting the Fourth Annual Sunday Kickoff Party better known as Golfapalooza! Over 1,500 participants and guests will ascend on Celebrity Square at Broadway at the Beach for live entertainment and discounted drinks.
 We can't think of a better way to welcome participants and get the week started right, than to gather in one spot with great music, friends and prizes.
WHEN: SUNDAY, AUGUST 28TH FROM 5:00 - 7:00 PM
WHERE: BROADWAY AT THE BEACH
Crocodile Rocks
Malibu's Surf Bar
Broadway Louie's
Oz
WHAT: Discounted drinks, live entertainment and prizes!
RAFFLE PRIZES
How the Random Drawing Prizes Work:
Each player will get a custom raffle ticket at registration. Drop your portion of the ticket into one of the "little golf bags" located at the entrances of Broadway at the Beach by 6:30 PM. Winners will then be announced on the main stage at 6:50 PM. YOU MUST BE THERE TO WIN!
Random Drawing Prizes
One (1) FREE Entry to 2017 World Amateur
One (1) FREE Entry to 2017 World Amateur
One (1) $250 Gift Card to the PGA TOUR Superstore
One (1) Voice Caddy T1 GPS Watch
One (1) Voice Caddy VC300 Device
One (1) TaylorMade Carry Bag
One (1) TaylorMade Carry Bag