As the world's largest golf tournament, we have almost 400 players that finish the week in the top 5 of their flights. They each receive a trophy and gift card for their performance, and one will be crowned "World Champion". In addition, we'll dish out over 600 dozen golf balls for on-course contests such as closest to the pin, longest drive and daily low net. However, you don't have to have your "A" game to leave Myrtle Beach with a great prize.
In addition to our random drawing prizes from the early entry period, the World Am is excited to announce that on Monday night we will turn 100 more participants into winners! You don't have to be firing on all cylinders to win this one, as two consecutive flights will be chosen to receive a custom World Am logo Under Armour Undeniable 4.0 Duffle Bag!
These duffles are perfect for hauling your extra gear to the course, the gym, or on vacation. "We are excited to keep pumping up the prizes. We love adding value to our player's experience and being able to do giveaways like this, 100 PeakVision sunglasses, the random drawings from early in the year, and of course the Thursday night giveaways are when everyone hopes to hear their name called. The Under Armour duffles are sure to be a huge hit for the lucky winners chosen," said Tournament Director Scott Tomasello.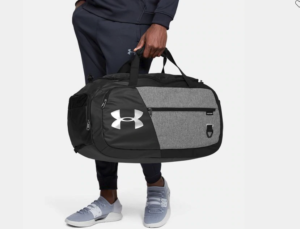 Keep an eye out for more details on the 19th Hole and more! Also, don't forget to LIKE US ON FACEBOOK, as we're giving away prizes there on a weekly basis from now until everyone gets to Myrtle Beach in August!