The largest, most fun & most valuable golf tournament on the planet! Entering its 38th year, the "World Am" is the only event of its kind. Boasting 72 holes of net, stroke play with over 3,000 golfers competing on nearly 60 of Myrtle Beach's best golf courses. It isn't all just about the golf though, the Myrtle Beach World Am provides players with the most unique and rewarding tournament golf experience around!
Join
Golf Fanatics in Myrtle Beach
Enter your email address below to receive tournament news and updates!
Recent World Am News & Updates
Latest News
The 2021 Myrtle Beach World Am saw more than 3,500 golfers from across the country take to the Golf Capital of the World to compete in the largest amateur golf tournament in the world!
Read More »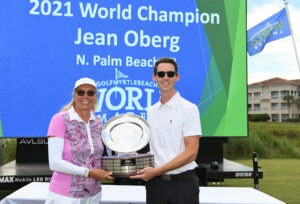 Latest News
Jean Oberg (North Palm Beach, Fla.) shot a net 67 (gross 89) to become the first woman in 12 years to win the Flight Winners'
Read More »