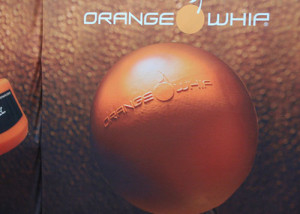 Along with the great food and cold drinks, the Myrtle Beach World Amateur features an impressive roster of exhibitors that make up one of the biggest golf showcases and midways. No sport undergoes more technology changes and improvements than golf, so it's fitting that the 3,500 golfers in attendance in 2015 have a rare chance to see and try some of the latest products before they buy.
Let's take a look at three exhibitors that golfers of all levels should check out.
Orange Whip
See and try Orange Whip's entire line of products at the 19th Hole. Golf's No. 1 training tool will help you discover the perfect golf swing. Think of the Orange Whips as a training club in your bag that gives feedback for tempo, balance, and swing plane training. You can't miss the color "orange" around the Orange Whip exhibit, so stop by and see how the Orange Whip team can help improve your game.
Orange Whip products accelerate the learning process by providing swing feedback that you cannot get from your golf clubs. You have heard the golf terms rhythm, balance, tempo, and timing. Orange Whip delivers a feeling to these words, achieving their mission: to help every golfer find their best golf swing possible.
Kentwool
Bubba Watson swears by Kentwool socks and so should you. Made right here in South Carolina, Kentwool is generally regarded as the World's Best Golf Sock. In terms of comfort and performance there is nothing even close. Soft and carrying a "Lifetime Blister-Free Guarantee," golfers will feel the difference once they put Kentwool socks on and play a round. These socks actually breathe and they will breathe new life into your golf game.
Bobby Grace Putters
A world-renowned putter maker, Bobby Grace always has something new in store for the World Am and the 19th Hole and this year is no exception. Credited for over 20 years with helping achieve hundreds of professional golf victories and major championships, Bobby Grace putters incorporate unique technology that is demonstrably superior to the competition. Bobby Grace Putters aren't just "made" they are crafted.
"Our mission to deliver optimal performance for golfers of every skill level has earned us patents on our golf ball core face inserts and on high-inertia putters," explains Grace, who will be at his booth at the 19th hole showing his putter collection and doing custom fittings.