By Rick Limpert
Sure food and drink are the driving force each year at the Myrtle Beach World Am's 19th Hole, but golfers looking to improve their game or get that "edge"  flock to see what the  more than 50 exhibitors are showing off or debuting each year.
World Am exhibitors come from all over the country to get feedback from the more than 3,000 golfers playing this week and offer up their goods at great "World Am Prices."
Here are three to check out:
Copper Tech Gloves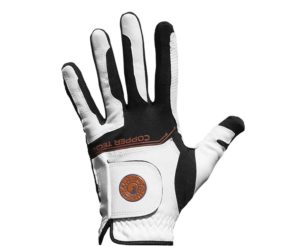 Copper has become the "go to" material when it comes to pain relief and performance. Copper Tech Gloves are engineering that has never been seen in golf. Easy on your hands, Copper Tech improves health and performance and you now have a choice of a tacky glove that comes in all sizes, including XL. Copper Tech Gloves come in models and sizes for both men and women, so nobody is left out. The benefits include no slip, improved circulation and oxygenation of working muscles and less strain and fatigue for your entire body. Copper leg and ankle sleeves as well as back supports are proving popular, so why not golf gloves? Copper is a great additive to articles of clothing when playing multiple rounds in consecutive days, so give it a try this week. Price: $19.95.
Goto Caddie Yardage Books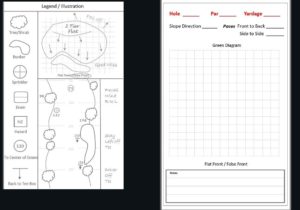 Yardage books used by professional caddies and players? Count me in! This is also the No.1  DIY yardage book used by amateur, collegiate and junior golfers worldwide. If you are looking to gain strokes, without putting forth more effort on your swing, yardage books are an advantage within the rules of the game. Yardage books are essential tools that all professional golfers use and begin taking notes prior to and often during tournament play. Professional caddies used to spend hours on the golf course familiarizing themselves with the layout of the course. With new technology like Google Earth, caddies and players can now design their books before stepping foot on the course saving specific notes such as yardage and green slopes for practice rounds. Goto Caddie yardage books can help eliminate costly mistakes and will also erase doubt from a player and caddie's mind by servicing them both with very accurate information. This helps determine strategy standing on every tee and over every shot. Your notes can provide accurate measurements for distance and elevation from the tees to hazards and bunkers and from many fixed points in and around the fairway to the front edge of the green.
The yardage book also provides detailed sketches and measurements of the greens, allowing a player/caddie to know exactly where the pin is located, therefore, providing confidence in their plan of attack for each hole they face during a round. It is the definitive tool of course management and a critical piece of equipment for the modern game.  Check out their booth!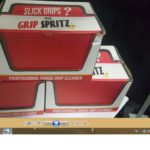 GripSpritz
Grip Spritz brings new life to your old grips. It is specifically formulated for ball players and golfers. Grip Spritz is a safe, non-toxic solution proudly made in Ohio. It works on golf grips, baseball bats, hockey sticks and even works on shoes when you put a dab on basketball or volleyball shoes to keep them from skidding and slipping.
Fighting Golf's Impact Improver
A simple practice aid that you need now! Get immediate feedback on where your ball hits the club face. Practice indoors or out. Attach the Strike Shield and start swinging your irons and wedges. The provided ball will actually stick to the face of your club. Extra balls included and the cost is $39.99. Developed by former LPGA player and top-50 women's instructor, Tiffany Faucette.
Their products allow you to self-learn and experience the joy of winning shots through the mastery of: Flow, Force and Fly.