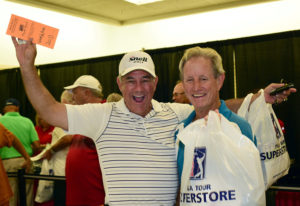 We are less than 24 hours from the start of the 34th annual World Am.
Players have until 5 p.m. to go through registration but the highlight of the day's events will be the annual Welcome Party, which will be held at House of Blues.
The party will begin at 5 p.m. and feature live music by the Paul Grimshaw Band, a familiar name to World Am participants. House of Blues will be offering drink specials and providing players the opportunity to renew acquaintances with old friends before beginning play.
If you attend the party, don't forget to bring the ticket you received at registration so you can enter the random drawing contest. There will be thousands of dollars in giveaways, including complementary entry into next year's tournament.
We hope to see you at House of Blues, but if not, good luck this week!