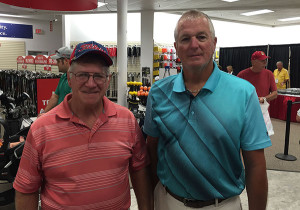 Bill Blair listened to ESPN Radio's Mike & Mike in the Morning Show discuss the World Am for a number of years and always dreamed of playing in the event. Seven months ago, the Danville, Il., resident decided it was time to take action.
Blair told his golfing buddy, Dick Rodeffer, the World Am was on his bucket list, and Rodeffer provided what little prodding was needed.
Early Saturday morning, the Myrtle Beach golf (neither had play here prior to arrival) and World Am virgins quickly made their way through the registration line and turned their attention to the tournament.
Each has an impressive golf course lineup. Rodeffer is playing the Fazio Course at Barefoot, River Club, Aberdeen and Burning Ridge, while Blair will be teeing it up Thistle, Myrtlewood PineHills, Shaftesbury Glen and Wachesaw Plantation East.
Throw in a Sunday round at Caledonia, and the duo is going to get a taste of why Myrtle Beach is golf's most popular destination.
As for the their expectations?
"I want to play well, play nice courses and be competitive," Blair said.
We know they will play nice courses, how they play is to be determined!