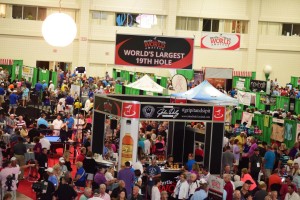 The World's Largest 19th Hole has always been one of golf's greatest parties, anchoring the fun at the Myrtle Beach World Amateur Handicap Championship. Offering more than 120,000 square feet of festivities, the 19th Hole, which is held at the Myrtle Beach Convention Center, is where golfers gather each night to pour over scores, swap stories and enjoy a celebration of the game.
In the coming weeks, exact details will be revealed regarding bar offerings, live entertainment, activities and games, random drawing prizes and so much more. The size and scope of the 19th Hole will be very similar to recent years, but players and guests will be treated to quite a few new experiences. Here is a basic rundown of what you can expect this year:
As always, players will receive free food from some of the area's best restaurants, and free drinks, including soft drinks, beer, wine and liquor. Tournament organizers have made the efficiency of food and drink lines a priority in recent years, and they've enjoyed great success. With eight bars and 12 food stations spread throughout the convention center, there is something around every corner.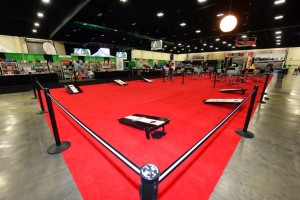 But there is so much more to the 19th Hole than food and drink. There will again be a stream of high profile golf personalities entertaining participants. Headlining this year's celebrity lineup are television personality Charlie Rymer and the Katrek and Maginnes On Tap radio show, which will be broadcast live from the main stage on Sirius/XM radio with Brian Katrek and John Maginnes. More guests will be announced soon.
The ever-popular indoor par 3 is returning, as is the long putt contest and multiple simulators, allowing players to continue competing at the game we all love throughout the night. Even the most golf-crazed of tournament participants need a short break from the game, and there will be plenty of options to occupy that time as well. The 19th Hole will have a gaming area that includes arcade games such as Golden Tee, corn hole, pool and darts.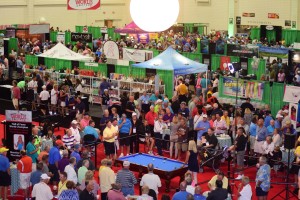 The golf expo will again feature more than 60 exhibitors, including apparel, equipment, technology and training aid companies. "The golf expo continues to be one of the most popular areas of the 19th hole," says Ryan Hart, 19th Hole Coordinator. "The companies that come in have relevant products and services and offer awesome deals to the players."
We will again have live music all four nights, and may even sprinkle some karaoke in this year. There will be plenty of opportunities to dance off the bad shots with a different musical act each evening, playing great beach music, rock n' roll, blues and classics.
If that's not enough, there will be more than $25,000 in random drawing prizes given away on the final night of the event.