The curtain was closing on the 2017 World Amateur Handicap Championship and most of the crowd at the World's Largest 19th Hole was intently listening to the announcement of random drawing prize winners.
Meanwhile, Thomas Greer was saddled up to a bar enjoying a drink with a playing partner he struck up a friendship with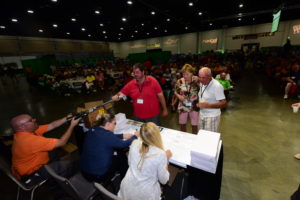 earlier in the week.
He thought he heard his name called from the stage, but his buddies quickly assured him he was crazy. Then, Golf Channel star Damon Hack repeated the name of the person who won the grand prize  – a Dream Trip to Myrtle Beach – and there was no mistaking whose name was called the second time.
The Nashville, Tennessee area resident rushed to the stage to make sure there wasn't another Thomas Greer playing in the tournament and claimed his prize, a week-long trip to Myrtle Beach that allowed him to play the course itinerary of his choosing.
After the shock wore off, the toughest part was selecting the friends he was going to bring with him. He settled on three guys from his Sunday golf group, two of whom are World Am regulars and another he hopes will become one, and Greer took his trip of a lifetime April 21-28.
How does this itinerary look?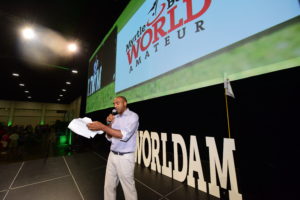 April 22 – King's North at Myrtle Beach National
April 23 – Love Course at Barefoot Resort
April 24 – Tidewater Golf Club
April 25 – True Blue Golf Club
April 26 – Caledonia Golf & Fish Club
April 27 – River Club
Throw in free flights, a rental car, gift cards to Greg Norman's Australian Grille and PGA Tour Superstore, and you have the ingredients for a good week.
"It was great," Greer said. "We flew right in and stayed at Myrtlewood condos. We even used Shipsticks and that was great.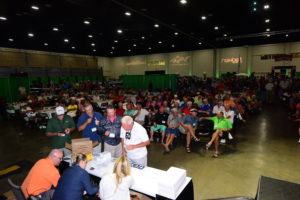 Our clubs were waiting for us on the cart when we got to King's North and they picked them up at River Club."
The Music City residents played 27 holes a day, ranking Tidewater Golf Club and the Love Course at Barefoot Resort as their favorite layouts, leaving little time for nocturnal activities, though they did squeeze in a trip to a beach bar one night.
Greer, Daryl Hight, Jeff Dillon and Kelly Clements played five courses that have been ranked among the nation's top 100 public layouts, enjoyed time with friends, and got to see several alligators along the way.
Greer finished 38th in his flight last year, but he won the tournament's biggest prize and his latest Myrtle Beach golf trip is one he won't soon forget.
Thomas is just one winner of the $25,000 in prizes we give away, check out all the random drawing prizes we dished out in 2017 and expect more of the same for the 35th anniversary.