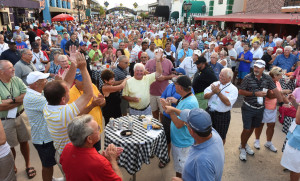 We are less than 24 hours from the start of the 32nd annual Myrtle Beach World Amateur Handicap Championship, but this Sunday won't be a day of rest!
Registration is open at both PGA Tour Superstore locations from 9 a.m. to 5 p.m., and we are hosting our annual Golfapalooza Kickoff Party at Broadway at the Beach's Celebrity Square. The party will run from 5 to 7 p.m. and feature discounted drinks, live entertainment and nearly $2,000 in random drawing prizes.
Among the gifts being given away are entries into the 2016 World Am, a $250 PGA Tour Superstore gift card and golf game systems.
REMEMBER: You must bring the raffle ticket you received at registration and put the proper half in the "little golf bags" by 6:30 to be entered to win the random drawing prizes!
Enjoy your day and start getting ready for the event!