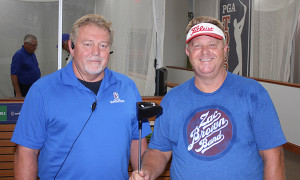 We are underway! Sunny skies and eager golfers greeted us at the PGA Tour Superstore in North Myrtle Beach as registration opens for the 33rd annual Myrtle Beach World Amateur Handicap Championship.
Players were awaiting the start of registration, most of them before heading out to a practice round with tournament play less than 48 hours away.
This year's gift bag is one of the best in World Am history. Players receive a Greg Norman golf shirt and quarter-zip pullover, a Nexbelt, a Greg Norman hat and a $20 PGA Tour Superstore gift card, among many other items.
Registration is open at the North Myrtle Beach Superstore until 7 p.m. Saturday night.
On Sunday registration will move to the PGA Tour Superstore in Myrtle Beach and will be open from 9 a.m. to 7 p.m.