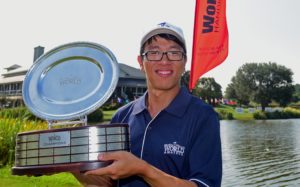 Players from around the globe will converge on Myrtle Beach, SC this August to compete in the 34th Annual World Amateur Handicap Championship. They will play 72 holes of stroke play with dreams of making it to the Flight Winner's Playoff, and this year that dream will be fulfilled for 64 flight winners at Barefoot Resort's Dye Club.
"The Dye Club seems like it was built for championships," tournament director Jeff Monday said. "The golf course is among the best in America, and it's a big-event facility. The service and golf course are top-notch, and it truly is a first class experience for our flight winners the entire day."
The Dye Club is the annual host of the Hootie & the Blowfish Monday After the Masters Celebrity Pro-Am, and has a private clubhouse and a layout that will challenge the best players at this year's World Am. Designed by the legendary Pete Dye, the course is complete with the octogenarian architect's trademark features: ample mounding, a surplus of sand, and, of course, railroad ties. The layout's visuals are stunning. The sixth, ninth, 10th, 15th and 18th holes all standout amidst an impressive lineup.
More than 3,000 players from across the globe are expected to participate in this year's event, which will be played August 28 – September 1. Players will be flighted based on age, gender, and the game's most rigorously enforced handicap system. More than 50 of Myrtle Beach's finest golf courses will host the 72-hole event.
At the conclusion of play each day, participants will gather at the Myrtle Beach Convention Center to enjoy the festivities at the World's Largest 19th Hole. The 19th Hole will provide players with free food, open bar, live entertainment, a golf expo, Demo Alley and much more.