The World's Largest 19th Hole is at the heart of the tournament's popularity and the exhibitors that turn the Myrtle Beach Convention Center into a de facto golf show are a vital part of the event's success.
More than 50 exhibitors are showcasing their wares at this year's event and here are three newcomers (and an old friend) we thought players might find of particular interest:
– During the heart of the pandemic, Everett Farr found himself spending more time at home, watching YouTube videos as various putting companies claimed their product would prevent players from being open or closed at impact. To Farr's way of thinking, that approach was misguided.
Instead of helping players not do something wrong, how about helping them do something right?
Out of that thought, Makefield Putters was born.
Aided by the benefit of having computer machining capability at his manufacturing plant, Farr designed a putter that stays square through impact longer. Makefield Putters use a proprietary, 4-point weighting system that starts balls rolling toward the intended target faster than any other putter on the market.
When you strike a putt, the ball initially knuckles, then skids for some distance before beginning its forward roll. Makefield Putters ensure a more immediate forward roll and by extension, better results on the green.
If you need further affirmation, consider that PGA.com voted Makefield as the Most Innovative New Club Technology at the 2022 PGA Merchandise Show. Come test the putters for yourself.
– The ability to build custom made greens, bunkers and backyard chipping areas has largely been the purview of the rich and famous, but Celebrity Greens can bring a tour-quality practice surface to your backyard. Sure, many of their clients have names you would recognize (ever hear of Jon Rahm?), but most Celebrity Greens customers are amateurs in search of a better game. The company builds synthetic, sand-filled putting complexes that roll between 10.5 and 15 on the stimpmeter.
The putting surfaces are smooth and can be customized to help you shave strokes around the green. Celebrity Greens even has multiple cuts of rough, allowing players to practice different aspects of their short game.
If you want to test it for yourself, the Celebrity Green is where you can also sample the Makefield putter.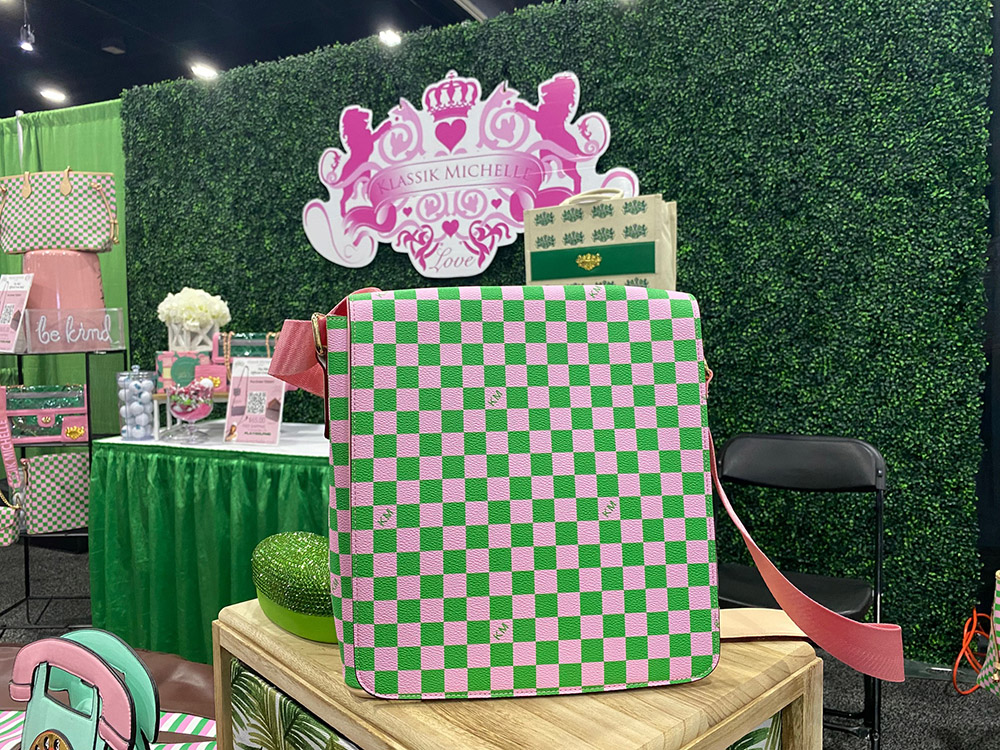 – Richelle Lorde calls her Klassik Michelle line of women's handbags and luggage "art from the heart," and it doesn't take long to understand why. Based out of South Florida, Lorde designs all the company's bags, using her own creativity, intuition and feedback she gets from her fellow females.
The standard for Klassik Michelle bag is simple.
"I don't produce anything I wouldn't carry," Lorde says.
Her bags feature a lot of pink and green and based on the crowd in her booth Monday night, it's a winning combination for World Am golfers. Whether you are buying a new bag for yourself or want to get a memorable gift for someone else, stop by the Klassik Michelle booth.
– PGA Tour Superstore is a long-time friend of the World Am and this year is no different. In addition to hosting registration, the Superstore also sets up a show store in the World's Largest 19th Hole, allowing players to buy hats, shirts and reload on other golf-related items as the tournament proceeds.
Come by the tournament's "Superstore" and start shopping.
For a full list of the 19th Hole exhibitors, click here.